Overview
Darb 17/18 is an Egyptian contemporary centre for art and culture, situated in Old Cairo's Fustat zone. As a dedicated charitable organization, Darb 17/18 looks forward to igniting creativity by promoting new works by uprising artists with specific regard for creative authenticity, variety of media, aesthetic standards, and cultural rootage. The centre additionally seeks to introduce local as well as global contemporary workmanship by means of documenting fine-art projects and compiling an exhaustive artistic database in Egypt.
See translation
هو مركز مصري معاصر للفن والثقافة، ويقع في منطقة الفسطاط في القاهرة القديمة. وبصفتها منظمة خيرية غير هادفة للربح، تتطلع درب 17/18 إلى إشعال الإبداع من خلال الترويج لأعمال جديدة للوجوه الجديدة من الفنانين، وتلي اهتمامًا خاصًا للأصالة الإبداعية وتنوع الوسائط والمعايير الجمالية والجذور الثقافية. وإضافةً إلى ذلك، يسعى المركز إلى تقديم الفنون المعاصرة المحلية والعالمية من خلال توثيق مشاريع الفنون الجميلة وتجميع قاعدة بيانات فنية شاملة في مصر.
Hide translation
Facilities
Outdoor
Events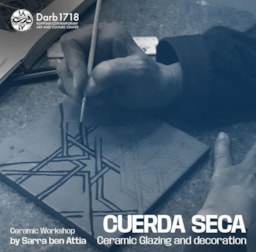 Cuerda Seca: Ceramics glazing and decoration workshop
Darb 1718 is offering Cuerda Seca: Ceramics glazing and decoration workshop by Sarra ben Attia on the 29th of March.
The workshop will identify the history of the "Cuerda seca" technique, its artistic and technical qualities, its application to adorn ceramic goods with glazes, and its usage to create works of art and practical utilitarian products.
Book Now